Do you know what is caterpillar rides? Caterpillar amusement ride is a classic roller coaster that has a green worm as its seat cabin. In general, you will commonly see it in the amusement parks, children playground, Christmas, carnival, etc. Besides, it has a green wacky worm car on the long tracks. So it also called wacky worm roller coaster, worm roller coaster.
In our company, the wacky worm cars may also be decorated with bright colors and patterns, as well as caterpillar-like features such as antennae and eyes. So the caterpillar ride appearance is cute, and its color is bright, decorations are beautiful. Then, the worm roller coaster becomes one of top 5 hot selling spinning rides in our company. Others include merry go round ride, samba balloon, waltzer ride for sale, and swing ride. Certainly, these amusement attractions are popular with children and adults. Especially worm roller coaster ride for sale, it is popular with children and adults. In addition, while children and adults sit it, they have a thrilling experience by riding the caterpillar roller coaster.
Where is the caterpillar roller coaster suitable for your use?
This roller coaster is an attractive, interesting, thrilling spinning ride for many people. Soon, there are many places suitable for you to use attractive caterpillar roller coaster for sale. So many people like to sit the thrilling caterpillar rides to have a good time. Furthermore, you can use the caterpillar roller coaster for sale in many places or occasions. For example, square, ocean park, zoo, children playground in scenic area, theme park, fair, fairground, Christmas, Valentine's Day, Easter. Whatever you use, we can provide you wacky worm coaster for sale that suitable for these occasions.
In the amusement park: You use the caterpillar roller coaster for sale in the amusement park. Because caterpillar amusement park ride is a thrilling and interesting funfair ride, many 5-10 years old children, 10-18 years old young generations and adults like to ride it in the fairground. What's more, the fairground is a good place for you to make money. So if you have a children amusement park, you should buy the worm roller coaster to make more money.
Carnival and Christmas: When the carnival or Christmas is coming, you should buy the small caterpillar amusement park ride for sale for your parks. Moreover, the caterpillar train ride is a carnival amusement equipment, so it increases the atmosphere of carnival or Christmas in the amusement parks.
Indoor children playground: If you hope you do the business all year, you can use the roller coaster in the indoor children playground. Recently, many businessmen build indoor children playground to protect the children from rains, hot or cold weather. Furthermore, if you rent a place to start the wacky worm roller coaster business, you can get a good benefit quickly. What's more, more and more kids like to sit thrilling amusement rides: carnival ride caterpillar roller coaster for sale.
In your backyard: If you are rich, you can buy a worm roller coaster ride for your children. Because if you want to your children have a happy childhood, you buy wacky worm coaster for sale as a gift for your kids. Certainly, during the holiday, you can accompany your kids to sit it. Then, your children will have a good time with families or their friends.
wacky worm roller coaster for sale video:
You can know more details about wacky worm coaster by seeing its video. Furthermore, if you want to know more information about production and factory, you can contact us.
What are the parts of caterpillar amusement ride?
If you want to know more caterpillar kids rides information, you must know its parts. In general, there are many parts in the wacky worm coaster for sale as following:
1

Wacky worm cabins: The cabin is the main part of worm roller coaster for sale. Thus, it must be designed to resemble the body of a caterpillar. Wacky worm cabin is made by fiberglass in free-dusty room and roast paint room in our company.

2

Tracks: The track is a main road for roller coaster running. So the track may be made of best Q235 steel. Besides, its track length can be customized. if you want to 300 m, you can add its length.

3

Control system: The control system can control caterpillar amusement ride's start, stop, and also control the speed and movement of the equipment. Above all, in our company, we prepare the control box for you to control it easily.

4

Drive mechanism: It propels the green caterpillar roller coaster's cabins along the track. So the drive mechanism includes a chain or cable system, a motorized drive system, or other mechanisms.

5

Safety devices: The safety devices can protect passengers when they are sitting on the worm roller coaster for sale. Then, these safety devices may include seat belts, harnesses, restraints, emergency stop systems, and others.
Main parameter of wacky worm roller coaster ride
Notes: this specification in the below is a reference, more details, please contact us!
| Name | 18 seats wacky worm coaster ride |
| --- | --- |
| Area Required | 16m*24m( customize according to your playground) |
| Capacity | 18 persons |
| Carriages | 5 carriages |
| Track Height | 2.5m |
| Speed | 8-13kw/h |
| Voltage | 380v/60HZ |
| Power | 5kw |
| Material | fiberglass cabins, steel track |
| Volume | 40 HQ (12m) |
What size worm is best for your amusement parks?
Firstly, Worm roller coaster ride has many different themes and sizes. Yet, you can customize its size according to your need in our company. Moreover,  if you have a large amusement park, you buy big apple wacky worm for sale. However, if you have a small fairground, you buy mini wacky worm roller coaster for sale.
Secondly, there are 12 seats, 16 seats, 18 seats, 24 seats caterpillar amusement rides for sale in many companies. However, these sizes wacky worm roller coaster have different specification. Nowadays, in our company, 16 seats wacky worm coaster's area size is 18*12 m, and it power is 3kw. Besides, its voltage is 110v/220v/380v, and its running speed is 1.8m/s. Whereas, its running height is 2.5m. However, the specification of caterpillar train ride isn't fixed, and it can be customized in our company.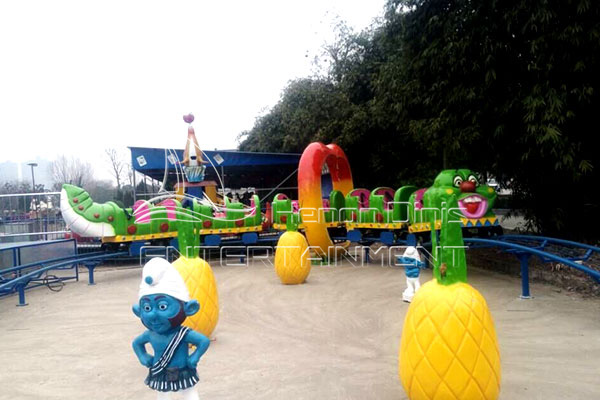 How much are caterpillar roller coasters?
How much is a wacky worm roller coaster? In fact, this question is important for you. Therefore, you must know that:
Firstly, different sizes roller coaster caterpillar has a different price. Because different sizes caterpillar carnival ride uses different materials. So the large or small kids ride caterpillar has a different selling price.
Secondly, caterpillar roller coaster for sale with different tracks has a different price. Thus, if you need a long track, you maybe pay more money to add tracks' length. Furthermore, if you buy a caterpillar mini roller coaster with short tracks, you need to spend less money.
Certainly, if you buy worm roller coaster in our company, we give you factory price directly. Moreover, we usually hold a discount activity. So you pay less money to buy a high quality roller coaster. Then, if you want to know the price of our caterpillar amusement ride for sale, please contact us to get a free quote.