How to build amusement park in 500 square meter area? You should find a professional amusement rides manufacturer to help you. After all, professional amusement rides company can help you plan your area, and help you choose amusement rides for this amusement park.
Generally speaking, for 500㎡area, you can build a kids amusement park for 3-15 years old children. However, how to choose amusement rides for your kids amusement park? How to plan the placement of these kids amusement rides in your park? If you choose our company, these question can be solved easily and quickly. For building an amusement park, our company can provide you a free plan. Besides, we also help you to choose hot selling kids amusement rides suitable for 3-15 years old children.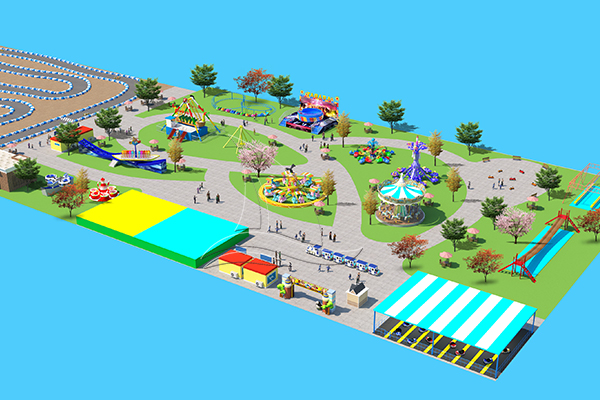 Here is a plan for choosing suitable amusement rides for 500㎡area:
16 seats merry go round ride for sale
First, you should buy 16 seats carousel ride for sale. Why do we suggest you buy 16 seats merry go round ride for amusement park? Because 16 seats spinning horse ride area size is 7.8m, it doesn't occupy more area. Then, 16 seats carousel roundabout ride has beautiful FRP horse-shaped seats, attractive decorations and colorful LED lights. So this 16 seats merry go round ride for sale is popular among 3-15 years old kids.
Inflatable slide for sale
Second, you buy 8*5m inflatable slide for sale. As we all know, inflatable slide ride is a classic kids ride in the amusement park. Especially, 3-8 years old children like to play in the inflatable slide amusement ride. If you buy inflatable slide for sale, this equipment will quickly attract more and more children. Therefore, the inflatable slide is a necessary amusement ride for your children amusement park.
Trampoline ride
Third, our trampoline ride is a hot selling non-powered amusement equipment, which is popular among 3-15 year old children. When children play in the bungee trampoline ride, they will have a good time. Besides, they will make friends with others quickly by playing in the inflatable playground. So we suggest that you buy 10*2.5m trampoline ride for your children playground.
Outdoor slide for sale
Fourth, you also buy 6.7*4.6*3.6m outdoor slide for sale in our company. This outdoor slide for sale is a small amusement ride designed for 3-10 years old children. Besides, this equipment that is made by engineering plastic and galvanized steel pipe has beautiful&cute decorations, and a slide. So when little children see it, they can't wait to play on the outdoor slide for sale.
Battery bumper cars for sale
Fifth, you should purchase 4 bumper cars for your kids amusement park. Battery operated bumper cars for sale are common amusement equipment popular among 5-15 years old children. Therefore, if you build a 3-15 years old children playground, this battery bumper car is necessary kids ride for your amusement park. When children ride on bumper cars for sale, they will experience its thrilling and fun. Then, more and more children can't wait to ride battery operated dodgems in your kids amusement park.
In conclusion, if you build an amusement park in the 500㎡area, you can directly buy above mentioned children fairground rides. However, if you want to know other plans for your 500㎡area, please contact us to know other plans. Certainly, if you are strong to build amusement parks, like 1000 square meters, 5000 square meters, our company also provides you a plan. This plan includes helping you choose amusement equipment, planning placement of amusement rides, installation, training operators, and so on. All in all, whatever sizes amusement rides you build, our company can help you build it reasonably.