Our company has a variety of fairground carousels for sale, including vintage carousels, 3-6 seat mini carousels, and large carousels. These fairground merry-go-rounds are popular with both children and adults in many indoor and outdoor locations. Manufactured with fiberglass, Q235 steel, and other materials, our amusement park carousels are of high quality and attractive. Furthermore, our factory designs different cornices and different driving modes for carousels for your business. Additionally, we are a professional amusement rides manufacturer with 20 years of experience, and we can provide you with affordable prices and popular styles of merry-go-rounds.
How much do fairground carousel cost to buy?
Notes: the price is a reference for you, latest price list, please contact us!
How much is a fairground carousel ride worth? Now, we tell you that different capacity or different themes carousel fairground ride price is different. So when you buy fairground carousel merry go round rides, you must confirm its capacity and style.
However, As a rough estimate, a basic new carousel fairground ride with a standard number of seats (around 16 to 24 seats) can range from $10,000 to $30,000. While, larger carousels with more elaborate designs and additional features can cost upwards of $30,000 or even more. Furthermore, 3-6 seats small carousel fairground ride price is lower than large merry go round spinning rides. In general, 3-6 seats fairground carousel for sale price is $2,000-$5,000.
Certainly, the price range is a reference for you. If you want to know about our amusement park merry go round price, please contact us! Now we are in promotion period, we will give you a discount.
Where to buy fairground carousel horses?
If you buy fairground carousel, we suggest you choose a reliable professional carousel fairground for sale manufacturer. Why? Because there are many advantages for buying the ride in professional carousel ride manufacturer.
As a professional 20 years experience manufacturer, our company has own factory. So we can provide you many styles fairground carousels for sale and other amusement park rides, including teacup ride, train rides, roller coaster, pirate ship, flying chair ride, infltable castle, self control plane, bumper car, pendulum ride, etc. Additionally, we can faithfully provide you customized service about amusement park carousel.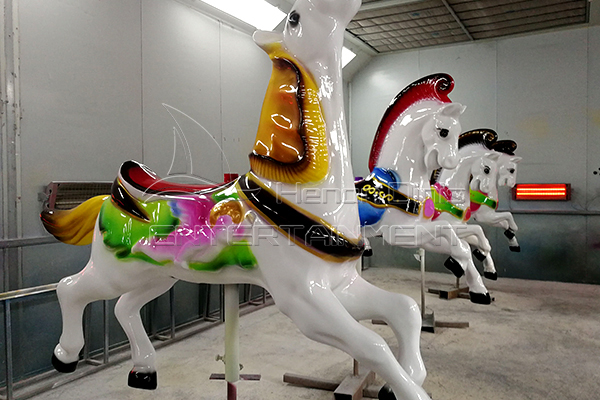 First of all, our fairground carousel horses for sale are high quality.
Maybe you will ask why our carousel fairground horse is high quality. Now, let us tell you the reason. Our amusement park merry go round's seats and its appearance of central column are manufactured by fiberglass. Then, its frame is made of Q235 steel. In addition, its floor is 1.5mm aluminum checkered plate or 10mm antiseptic wood plate. Therefore, our amusement park carousel for sale is high quality, whose color still keeps bright for many years.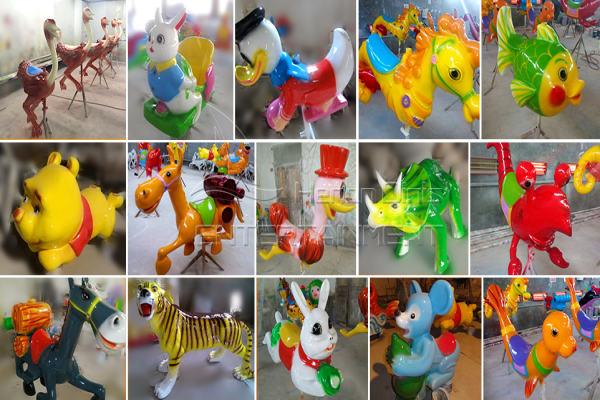 Second, our factory with 20 years experience will provide you customize service.
About our customized service, you can add your logo on appearance of fairground carousel horse. Moreover, you can customize its seats shape. For instance, you can change horse-shaped seat into animal-shaped seats including giraffe, tiger, swan, lion, rabbit, and so on. Furthermore, you can customize its style, capacity, size, decorations and color, which perfectly fits your amusement parks.
The specification of fairground carousel rides
Notes: this specification is a reference for you, more details, please contact us!
| | | | | | | |
| --- | --- | --- | --- | --- | --- | --- |
| | 3 seats | 6 seats | 12 seats | 16 seats | 24 seats | 36 seats |
| Material | FRP&Steel | FRP&Steel | FRP&Steel | FRP&Steel | FRP&Steel | FRP&Steel |
| Diameter | 1.4m | 3.3m | 5.3m | 6m | 8m | 9.5m |
| Height | 2.6m | 2.8m | 6.2m | 6.8m | 6.8m | 8m |
| Motor Power | 500w | 1.1Kw | 2.2Kw or 3Kw | 2.2Kw or 3Kw | 6Kw | 7Kw |
| Voltage | 220V | 220V or 380V | 220V or 380V | 220V or 380V | 220V or 380V | 220V or 380V |
| Speed | 0.8m/s | 0.8m/s | 0.8m/s | 0.8m/s | 1m/s | 1m/s |
| Space area | 1.5m*1.5m | 3m*3m | 6.5m*6.5m | 8*8m | 9*9m | 10*10m |
amusement park carousel's video
This amusement park carousel can be used in any where. Now, through the following video, you can see that fairground carousel ride is used in amusement park. and many children and young generation like to ride on carousel merry go round for sale.
How to design carousel fairground for your business in our 20-year factory?
How to design carousel fairground for your business in our company? In our factory, we design many popular carousel fairground ride for sale.
We design different cornice carousel spin rides.
For its appearance, we design single cornice carousel merry go round and double cornice fairground carousel for sale. When you see its picture, you will find that this cornice is different. By the way, both single and double cornice spinning horse rides in amusement parks are beautiful and attractive.
Design different operation spinning merry go round rides.
About its operation, we design upper transmission fairground carousels for sale, and lower drive merry go round amusement park ride. Certainly, the upper transmission carousel spinning kids ride is driven by the motor above to rotate. Then, its chassis is closer to the ground, which is easier to maintain and has less noise. While, the lower drive spinning horse ride is that the lower motor drives its rotary table to spin. Besides, its chassis is far from the ground.
Furthermore, our factory designs not only above mentioned merry go round rides for sale that suitable for parks, but also other kiddies fairground merry go rounds for sale. For example, sea carousel, coin operated carousel ride, luxury merry go round horse, Longines watch carousel merry go round, European themed carousel ride, vintage merry go round, 3 horse carousel, carnival carousel ride, etc. Whatever fairground carousels for sale you want, our company will provide you.
In addition, as a professional amusement park rides manufacturer, our company designs and produces other fairground rides. And there are bumper car, teacup ride, inflatable castle, self control plane ride, electric trains, flying chair ride, space roller ride, mechanical bull ride, disco tagada, energy storm ride, happy jellyfish ride, ladybug ride, roller coaster, waltzer ride, paratrooper ride for sale, ferris wheel, and so on. More details, please contact us!