Waltzer ride for sale is a popular amusement ride in many places, including amusement park, children playground, scenic area, fairground, theme park, carnival, and so on. Why the waltzer ride is popular in these places? As it is with high quality and attractive appearance. Our company designs and manufactures high quality waltzers ride for sale with fiberglass and best steels. Thus, it is quickly popular in many places. In addition, It also creates a thrilling and disorienting experience for children and adults. So many businessmen choose waltzer amusement rides to attract children and adults in the amusement parks.
How much does a waltzer ride cost?
Notes: the price is a reference, latest price list, please contact us!
When you buy waltzer ride, you might want to buy a high quality waltzer ride for sale with affordable price. However, many companies sell waltzer fairground rides in a different price. Do you know why the price of waltzer ride is higher?
Firstly,  Fiberglass waltzers fair ride for sale is higher than plastic waltzer ride.
Secondly, If waltzer fairground rides for sale is painted and is roasting paint in a free-dusty workshop, its price is higher than common waltzer ride that made in common workshop.
Thirdly, Waltzer fair ride's factory price is lower than the price of middlemen' price. However, our company is a direct factory with 30000 square meters and we will give you factory discount price.
Futhermore, according to our research, we learn that waltzer ride price is from $25,000 to $50,000 in market. Certainly, if you want to know details and latest price of waltzer fairground ride in our company, please contact us.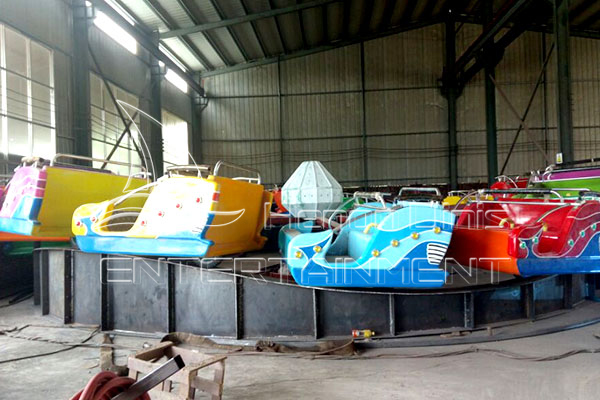 How to manufacture a waltzer fairground ride in our company?
As we know, producing waltzer ride for sale is a complex process. Thus, in our company, our workers carefully manufacture fairground waltzer for sale step by step. Then, do you know what production processes about producing waltzer amusement park ride? There are main production processes as follows:
1

First, design the waltzer ride: After you have chosen its size, our professional designers create 3D drawings or computer models, including the waltzers ride platform, supports, cars, and other components.

2

Second, producing the waltzers: When finishing the design, our company starts to fabricate waltzer seats and appearance decorations by using a variety of materials, such as fiberglass, steel, and aluminum.

3

Third, welding its frame: Our workers weld waltzer ride's frame by using Q235 steel, which fits international standard. At the same time, other painting workers paint the waltzers ride seats anD the appearance decorations.

4

Fourth, installing and testing: When we have produced all parts, we will install the waltzer ride for sale. Next, when we finished the installation, our company will test it for many times.
Main parameters of waltzer fairground rides:
Notes: This specification is a reference for you, more details, please contact us!
| Capacity | 24 seats | 36 seats |
| --- | --- | --- |
| Cabin | 8 cabins | 12 cabons |
| Area Size | 9 m Diameter | 12 m Diameter |
| Power | 11kw | 16kw |
| Height | 3 m | 3 m |
| Voltage | 380V | 380V |
| Color | customized | customized |
| Applicable Person | children and adults | children and adults |
| Material | FRP+Steel | FRP+Steel |
| Speed | 5-15 rpm | 5-15 rpm |
Why does our company become a leading waltzer ride for sale manufacturer in China?
You can buy waltzer ride in our company. Because our company, Dinis, is a leading waltzer amusement ride manufacturer in China. However, why does our company become a leading manufacturer in China?
How should you choose suitable waltzer rides for sale in different occasions?
When you buy waltzer ride, you hope that you can choose a suitable one. Then, how to choose a suitable waltzer ride for your business? You should choose different sizes according to different places sizes and different occasions.
36-seat waltzer ride suitable for amusement park
For your big amusement park, we provide you 36 seats waltzer fairground ride. Because this 36 seats waltzer amusement ride has a track and 36 seats around the central column. When it rotates up and down with the colorful lights, it can attract more and more people. However, for your small amusement park, we can provide you mini waltzer for sale. Our mini waltzer ride can't occupy more size in your park, and brings you a good return quickly.
24-seat waltzer ride suitable for carnival avtivities
Certainly, if you want to hold a carnival activity in your amusement park, you should buy our 24 seats waltzer carnival ride for sale. Moreover, you also buy our carnival kids ferris wheel, carnival swing ride, and other carnival rides for your parks together with waltzer carnival ride. Because if you own these kids rides in the carnival, children would like to go to your park in the carnival. For example, children and adults ride on the 24 seats waltzer ride for sale, and every people need to pay 15 dollars. Then, you can make over  $360 every time in carnival.
All in all, our company manufactures and sells all kinds of spinning rides at home and abroad. There are hot selling amusement rides: carousel ride, flying chair, teacup ride, spinning bumper car, samba balloon ride, track or trackless train ride, electric train ride, self control plane ride, energy storm ride, paratrooper ride, ferris wheel carnival ride, crazy dance ride, and so on. These rotary rides are high quality and affordable, so if you buy them, please contact us.