Why is our wave swinger for sale worthy of your investment? There are several reasons why our wave swinger ride may be a worthy investment:
Novel styles for different ages:
Firstly, our wave swinger for sale is a popular rotating ride that adults and children like to sit. Importantly, we have designed and manufactured several attractive & popular styles swing rides for sale for different ages. For 3-8 years old kids, there are giraffe flying chair ride. For 3-12 years old, there are watermelon swing ride for sale and lotus swing carousel ride. Besides, for over 12 years old children and adults, there are 36 seats luxury swing ride, amusement park swing ride for sale.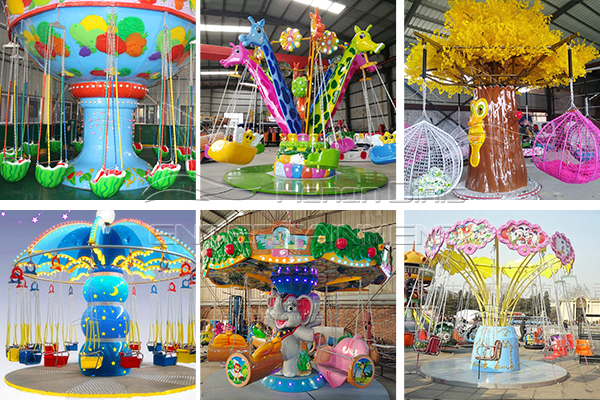 High quality fiberglass appearance:
Secondly, we use fiberglass material to manufacture swing ride for sale in our free-dusty room and fiberglass room. Thus, fiberglass swing carousel can withstand the stresses and strains of using in amusement rides production. Certainly, fiberglass flying chair ride is also resistant to corrosion and chemicals in outdoor environments. To sum up, wherever you use fiberglass yo-yo swing, it is not easily damaged. Besides, fiberglass wave swinger for sale requires very little maintenance and is easy to clean, which spends your less time to maintain and repair.
High safety for people:
Thirdly, our wave swinger amusement ride is high safety for people, especially children. How to keep people who ride on swinger ride safe? For little children, we will set safe belts and safe seats. What's more, we also prepare a control box for you to open and close it. Especially, there is an emergency, and you can close it by hand immediately. In short, our chair-o-plane ride is very high safety, and you can use it without worry.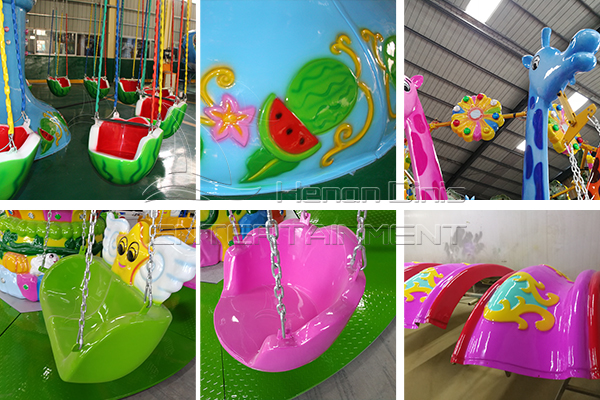 Its versatility:
Fourthly, the wave swinger for sale can be customized to fit a variety of themes. This means that it can be easily incorporated into many different types of parks and attractions. For example, you can use giraffe flying chair in the indoor or outdoor children playground or fair. Certainly, you also use 36 seats large swing ride in the large amusement parks or scenic area. Furthermore, if you want to buy waver swinger ride that is suitable for your theme park, we can customize it in our company.
Increasing more revenue:
Fifthly, swing amusement ride will generate significant revenue for your parks. How to increase the amusement park income? The spinning chair ride will make children and adults have a thrilling and happy experience. Then, they will stay in your park for a long time. Certainly, in your park, they will also sit other fairground rides, and buy drinking, food and so on. All in all, these ticket sales, food and beverage sales, and merchandise sales all contribute to the overall profitability of your funfair.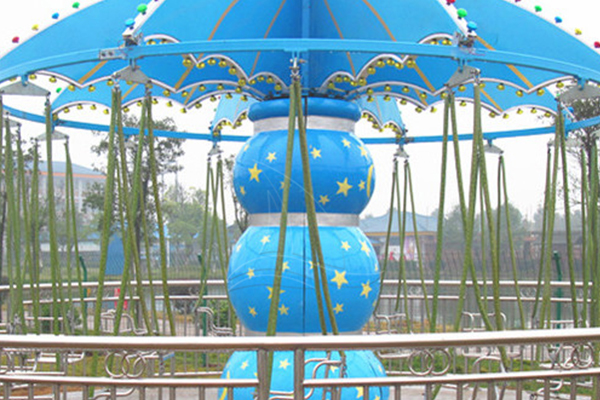 According to above mentions, our wave swinger for sale is very worthy of your investment. If you really want to make money, please not wait. Quickly contact us to get a free quote.
By the way, there are several styles flying chair rides with 12-36 seats, including giraffe swing ride, watermelon flying chair, lotus swing ride, forest themed swing carousel, simple yo-yo swing, luxury flying chair, etc. in our company. Therefore, if you want to buy wave swinger for sale, please contact us to know more details and its price. Furthermore, our company manufactures and sells other amusement equipment: carousel merry go round ride, self control plane, teacup ride, tagada disco, spinning pendulum ride, mechanical bull ride, bumper car ride, roller coaster, paratrooper ride, waltzer ride, samba balloon ride, octopus ride for sale, and so on.