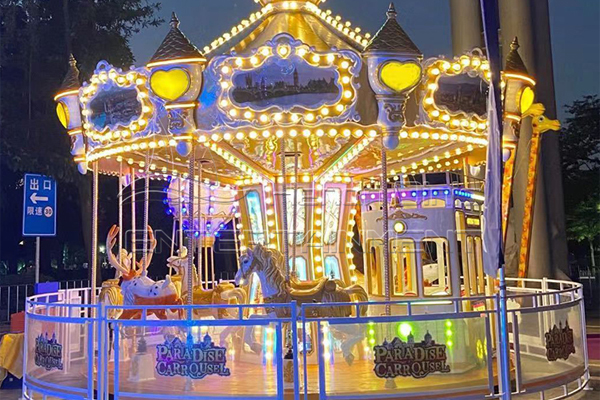 there are high quality children spinning amusement rides for sale in SR.
Notes: know more details, please click picture to read more. Or contact us directly. 
Hot selling children spinning funfair ride in our company
Do you want to know how many hot selling spinning kiddie amusement rides for sale in our company? There are many hot selling kids spinning amusement rides in our company.
Hot selling one: spinning horse ride
If you want to choose spinning horse ride themes, we can provide you sea carousel, Christmas carousel ride, vintage merry go round, animal merry go round, Longines carousel ride, etc. These merry go round rides have a high quality, smooth, bright appearance. Besides, these carousel rides for sale can be made 3 seats, 6 seats, 16 seats, 24 seats, 30 seats, and customized capacities. Therefore, spinning horse ride is suitable for your business in any places.
Hot selling two: jumping kangaroo ride
Our 16 seats jumping kangaroo amusement ride is an interesting amusement ride designed for kids. Kangaroo jumping ride with 16 seats can jump up and down and rotate circle by circle. So when children ride on the jumping kangaroo kid ride, they feel that they are little kangaroo babies in the kangaroo's pocket. Children will have an interesting experience by riding on this 16 seats jumping kangaroo ride.
Hot selling three: samba balloon amusement ride
Samba balloon ride in our company has many colorful balloons as decoration, and its seats also has a bright color. Thus, our samba balloon rotational ride is very hot selling at home and abroad. Certainly, if you want to buy kids ride for your children fairground, our samba balloon ride is suitable for your park. After all our samba balloon ride is a classic spinning child amusement ride, which can easily catches children eyes.